---
Aging is an extremely complex process that is still not yet fully understood. However, that hasn't stopped scientists, doctors, and skincare specialists from trying. Every year (and sometimes more often than that), new anti-aging products with various vitamins and ingredients are released—from CoQ10 to retinol to niacinamide.
But there is one ingredient we are now seeing in every product and at this point, probably sounds familiar to most of us. That ingredient is hyaluronic acid. Hyaluronic acid (HA) is everywhere. And I mean everywhere. Youthful skin is plump, resilient, and free of lines and wrinkles in large part because of its high water content so for hyaluronic acid to be a key ingredient in skincare comes as no surprise.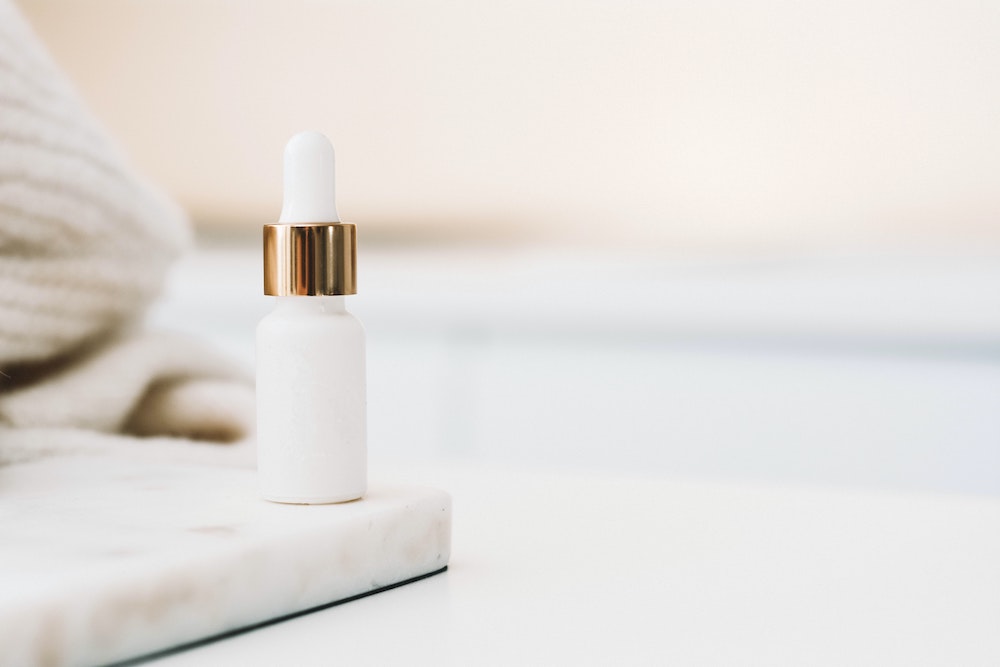 ---
I, for one, am not ashamed of my fine lines and wrinkles. I like them. I have earned them. And while I am fond of these natural, unavoidable, relatively new details of my skin, I'm not a fan of extrinsic aging, which is the result of exposure to external factors such as pollution and ultraviolet light. Approximately 80% of facial skin aging is attributed to UV-exposure! 😱 For the love of God, people, wear your sunscreen!
Since everyone seemed to enjoy my last scientific rant in regards to double cleansing (see that post here), allow me to entertain you whilst I put on my science hat once more. (If you read that in a posh, British accent, congrats because you did so correctly.)
Over the past twenty years or so, there has been considerable evidence presented that has unraveled the functional role of HA in molecular mechanisms. HA is the key molecule involved in skin moisture because of its unique capacity to retain water. This ability to bind and retain water molecules allows it to hold up to 1000x its own weight in water! Impressive, I know. It is because of this primary function of restoring and retaining moisture that we find it in loads of skincare products, particularly anti-aging products, as aging skin loses moisture and its ability to hold moisture as well as it once did. It's also suitable for all skin types and has few adverse reactions when used properly.
Notice how I said, "when used properly?" Yeah… You wouldn't be wrong if you're reading this and thinking "I bet she's going to tell us why we are all misusing HA," because that's what I'm about to do. I have also been guilty of misusing HA in the past because I just wasn't fully informed. We're told "this is good and it's going to help you look younger for longer," and it's in nearly every skin care product available, so I get it and I'm not judging.
Without dwelling on my own flaws and failures for too long, allow me to explain. When HA is applied topically to the skin, the skin itself acts as a barrier, preventing the hyaluronic acid molecules from passing through the dermis (the layer of skin that is below the epidermis), as HA molecules are too large. So instead, it sits on the skin's surface, chillin', doing its thing, attracting water molecules like the player it is. The HA draws water into the skin, keeping it hydrated, making sure that the barrier continues to function properly.
---
---
So what could go wrong? Well, because HA really loves to attract moisture, it will do what molecules do without even thinking about the consequences. HA will actually suck moisture out from the deeper levels of your skin whenever moisture in the air is unavailable. This is not cool, HA. Not. Cool.
This stolen moisture quickly evaporates, especially if you're not following up your HA application with a good moisturizer and facial oil to seal it all in (and I don't want to say 'I told you so,' but click here to see my post about facial oils when I indeed, told you so).
Listen, I never win so let me just have this one, okay?
Don't go tossing your bottle of hyaluronic acid just yet. This is a problem that usually occurs when humidity levels are low so it may not be a problem for everyone but you should still follow up with a moisturizer and facial oil even if you live in a place with high levels of humidity. Even then, you're still running the risk of this occurring. High-quality facial oils and moisturizers with ingredients like squalane, a hydrator that acts as a barrier to keep moisture locked in, are best for sealing in all of the moisture, giving your skin the best chance to absorb it.
---
So maybe you're asking "So what if that happens? Won't I just get dry skin?" Ahem. No. If you've ever experienced irritation, redness, rash, or small pimples while using HA, this is likely why, though you can always remove products one at a time from your routine until you've found your culprit just to be sure. Also, these problems tend to occur for people who have been using HA for an extended period of time (I'm talking months).
Aside from a good moisturizer and facial oil, what else can we do to prevent this utter tragedy from happening? Not too much, actually, but one thing we can do, we can choose hyaluronic acid products with different molecular weights. HA comes in six different sizes and unfortunately, if you want to find out which HA type a brand is using, you will have to do some research, whether online, reading the bottle, box, or insert thoroughly, or asking the brand directly and trusting them to be transparent about the HA type they've used. But if you can't trust 'em, dump 'em. That's what I always say.
---
I just want you all to remember that no matter the molecular weight of the hyaluronic acid you're using, it's only working on the top layer of the skin and must be followed with an application of moisturizer and facial oil to give yourself the best chance of holding all of that good moisture in. With that said, you may have better luck with choosing a hyaluronic acid with a high molecular weight just to be safe, or if you live in an area with low humidity. It's better because it stays more so on the surface of the skin, as opposed to the lower-molecular weight HA that can penetrate further into the skin, drawing out even more moisture from the deeper layers.
Another option? Just use products with glycerin, which is a different type of humectant but unlike hyaluronic acid, it helps slow the evaporation of water from your skin. It is often used in conjunction with HA in many skin care products which is totally fine. Glycerin is typically cheaper and more effective, saving you the worry about whether you're actually helping or harming your skin.
If you're curious about which facial oils I recommend, check out my post on facial oils, how and when to apply them, and check out my recommended products with glycerin and squalane below.♥
The Ordinary
100% Plant-Derived Squalane
This plant-derived squalane is a lightweight, plant-derived solution that supports healthy hydration. Squalane is a saturated and stable hydrocarbon that is found naturally in the skin. It has very high emollience, is an exceptional hydrator, and can prevent ongoing loss of hydration that impairs dermal suppleness.
Kiehl's Since 1851
Ultra Facial Cream
Suitable for all skin types, even sensitive skin, this facial cream is lightweight, fast-absorbing, and delivers 2.3X the hydration, even to the driest parts of your face. This cream is formulated with Glacial Glycoprotein, found in sea glaciers, to help moisturize the skin. It is also blended with olive-derived squalane that strengthens the skin's moisture barrier for glowing, hydrated, healthy-looking skin.
Youth to the People
Superfood Air Whip Hyaluronic Acid Moisturizer
Even though this face cream contains hyaluronic acid, glycerin is higher on the ingredients list. As I stated before, glycerin and HA are often found used together in skincare, which is perfectly fine. Suitable for all skin types, this cream is a multi-functioning, lightweight face cream that is loaded with superfoods like kale, spinach, and green tea. All of the extracts in this cute little jar are sourced and cold-pressed in the U.S.
Honest Beauty
Hydrogel Cream
Quenching and cooling upon application, this is a gentle face cream with advanced moisture-release to deliver firmer, smoother, more supple-feeling skin, all while helping to reduce the appearance of fine lines. It leaves you with a natural, dewy glow. Squalane and glycerin are the second and third ingredients of this product, meaning they are used in high percentages. It also contains two types of hyaluronic acid.
CeraVe
Moisturizing Cream
Glycerin is the second product on this moisturizing cream ingredients list. CeraVe's Moisturizing Cream has a unique formula that provides 24-hour hydration and helps restore the protective skin barrier with three essential ceramides (1,3,6-II). One thing that is pretty cool about this cream is that it can be used on the entire body, face, and even as a hand cream for dry hands. An all-in-one, if you will. It's one of my all-time favorites. It's gentle, non-irritating, fragrance-free, and non-comedogenic. What more can you ask for?
Biossance Squalane
100% Sugarcane Squalane
While many people may not have heard of squalane, your skin definitely knows it. Your body produces its own version, but it starts to decline in your 20's, leaving skin rough, dry, and vulnerable. Biossance has found a way to produce safe and effective squalane to keep your body hydrated head to toe. 100% sugarcane-derived squalane hydrates, soothes redness, maintains hydration, and leaves the skin feeling exceptionally soft. It's a weightless and replenishing multipurpose squalane oil—harvested from renewable sugarcane—that's highly stable and totally sustainable.
La Roche-Posay
Cicaplast Baume B5
Designed to soothe dry, irritated, and sensitive skin in seconds, this nourishing balm features a lotion-like texture that immediately goes to work speeding your skin's recovery process. And, because it has a rich, absorbent texture, you never have to worry about any sticky, oily residue. Ideal for all ages, skin types and tones, this nurturing balm replenishes moisture to soften, smooth and soothe skin while alleviating discomfort. I say it's more for the body but I know many people use it on the face as well. This balm includes key ingredients like panthenol, a vitamin B complex that nourishes and strengthens skin, shea butter, that conditions and hydrates skin, and of course, glycerin, that attracts moisture to maintain hydration.
Youth to the People
Superberry Hydrate + Glow Dream Mask
This is an overnight, leave-on mask that brightens the skin with maqui, the most antioxidant-dense fruit in the world, and THD ascorbate (the clinically-proven stable form of what we normal folk call vitamin C). Four vital hydrators—squalane, hyaluronic acid, glycerin, and betaine—plump and seal in moisture to repair dehydrated skin. This mask targets dullness and uneven skin tone for brighter, more radiant skin by the time you wake up in the morning.